Mina Nishizawa (西沢 ミナ, Nishizawa Mina?) is a new character who appears in mk2 as the Oracle of Lowee. She takes care of the Lowee twins. She's a competent yet clumsy caretaker.
Mina always handles her duties with ease and is known to be very reliable in both times of need or crisis. It's been said however that she has quite the nasty temper and can even be frightening when angered other than that she is normally very nice.
Mina is a tall, light skinned girl who has very long milk-blue hair worn in low pigtails held with big orange-yellow circled pieces with short bangs. Her eyes are dark blue with a red square pair of glasses in front of them. Mina has the appearance of a graduate student, wearing a short white dress under a red, long jacket like robe worn open with gold lining and buttons. The sleeves puff below her elbow and have long cuffs, while at her neck is a collar and red bow with a golden badge. A matching graduate hat is on her head with two long white tassels on opposite ends, while she also has a pair of see-through, frilled stockings and red heels.
Hyperdimension Neptunia mk2
[
edit
|
edit source
]
Hyperdemension Neptunia Re;Birth 2
[
edit
|
edit source
]
She is set to make a return in MKII PSVita remake and is playable.
"As their source of education and their caretaker... I must apologize to you properly."
(Eyes start glowing fiercely) "You. Will. Apologize."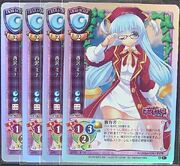 For official images of Mina Nishizawa see Mina Nishizawa (images). For fanart please see Mina Nishizawa (fanart).
In a recent popularity poll Mina has come in last place with only 14 points.
Mina is the only character in Hyperdimension Neptunia mk2 to wear glasses by default and not as an equipable accessory.
Compa mentions that she saw a really dark aura when Mina demanded that the twins apologize to Nepgear and her party.
Mina made a cameo appearance in the first episode of Hyperdimension Neptunia: The Animation.
Community content is available under
CC-BY-SA
unless otherwise noted.