Hyperdimension Neptunia Re;Birth2: Sisters Generation (Choujijigen Game Neptune Re;Birth2) is a remake of Hyperdimension Neptunia mk2 developed by Felistella released for the PlayStation Vita in March 20, 2014, January 27, 2015 for the US and EU. It was also released for Steam on May 29, 2015. 
For more info, see:
20XX-Gamindustri faces a dire crisis.
Shops are boarded up, creators are overworked and starving, and death looms over all Gamindustri. However, humanity has found a way to persevere!
In years past, the deserted lands of Gamindustri were known as the 'realm of chaos.' Since the advent of ASIC—the Arfoire Syndicate of International Crime—morality has all but vanished. As much as 80 percent of all students are rumored to worship the being known as Arfoire.
Parents, despite knowing it to be a poor object to worship, went ahead and taught their children to do so. The government turned a blind eye instead of crushing this crisis in its infancy.
Thus, Gamindustri fell into complete and utter disarray. The citizens have come to accept all of the corruption as normal. They take no issue with acquiring items illegally.
Those who were victims of this mentality lost all their strength and were sent to wander the Gamindustri Graveyard forever.
Limited Edition
Edit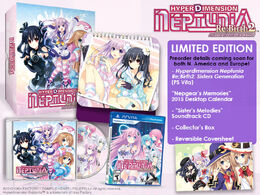 According to 
Iffy's Online Store
, the limited edition includes a full copy of the game. A 2015 calendar that includes exclusive artwork. A full soundtrack CD featuring tracks from the game, a collector's box measuring 6.77" W x 8.58" H x 1.77" D, as well as a Reversible Cover Art Sleeve. Currently, all official stocks for the Limited Edition are sold out, prompting people to look towards websites such as Ebay should they be interested in purchasing it.
Differences from the original game
Edit
The game features a new selection of playable characters. And Similar to the previous remake, Re;Birth 1, it utilizes the same battle system from Hyperdimension Neptunia Victory and the Remake System. It also features an improved framerate performance from it's predecessor, as well as newly reworked and tweaked voice acting, music, and visuals. Characters Red , Cave , 5pb., and the four Oracles from the continents, as well as Maker characters from Victory make a reappearance in the remake. Unlike the original, ESRB had rated the remake Teen.
Steam Release Re-Translation patch
Edit
Due to a number of fans complaints about the divisive translation, an alternative translation patch can be found here made by fans for a more literal translation.
Please visit Hyperdimension Neptunia Re;Birth 2 (images) for more images.
Emotions in the event scene, the balloon, expressions such as "?" "!", Became the same specification as the Mugen Souls.
References 
Edit
Community content is available under
CC-BY-SA
unless otherwise noted.